Planning a school carnival, field day, graduation party, school dance, fair, pep assembly, or any other school event? We've got you covered! Obstacle courses, dunk tanks, laser tag, photo booths, climbing walls, virtual reality, and much more! From preschool to college, we've got everything you need for the perfect school event. We understand the legal needs of school districts, and have the experience to make this an easy process for you. Give us a call today and one of our event specialists will walk you through the planning process of your next event.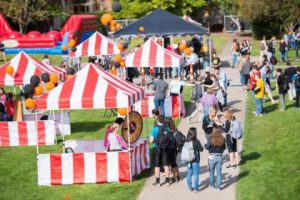 Are you planning a school carnival? We do so many of these each year! Give one of our professional planners a call today to talk about your options. Or if you prefer, you can choose some items and use our online quote system. We will get right back to you with a quote and some other options to make your carnival the best one yet!
What kind of fun do you have planned for the kids after all their hard work? Field days are a great way to reward them! We have inflatables, games, carnivals, dunk tanks, and just about anything else you can think of that is fun! Give one of our professional planners a call today. Or you can use our online quote request system if you already know what you are looking for.
Graduation nights here in Oregon and Washington are designed to be safe for the kids, fun for all that attend, and memorable for years to come. Many parents that help plan these grad night parties call us asking what we recommend that will not 'bore' the teens to death. We have years of experience and we know what will keep their attention and get them involved. Our grad nights are the best in the Portland and Vancouver areas. Click on the picture or heading for more info!