Virtual Reality gaming is a new generation of computer games with virtual reality (VR) technology that gives players a truly immersive, first-person perspective of game action. Participants both experience and influence the game environment through a variety of VR gaming devices and accessories, including VR headsets, hand controllers, and more.
Add an unforgettable virtual reality experience to your next event with our state-of-the-art VR rental systems. Multi-unit configurations available for corporate events, or single units can be rented for smaller parties. We run top of the line HTC Vive wireless headsets for a free-roaming experience without getting tangled in cords. Once you experience wireless virtual reality, you'll never accept wired headsets again. We power our systems with water-cooled Dell Alienware Area 51 PCs, so these will never overheat or slow down the party. 
Our professional setup is unmatched – wireless headsets, integrated sound systems with subwoofers, large flat screen TVs for observers to enjoy the action – it's a virtual reality experience your guests will always remember!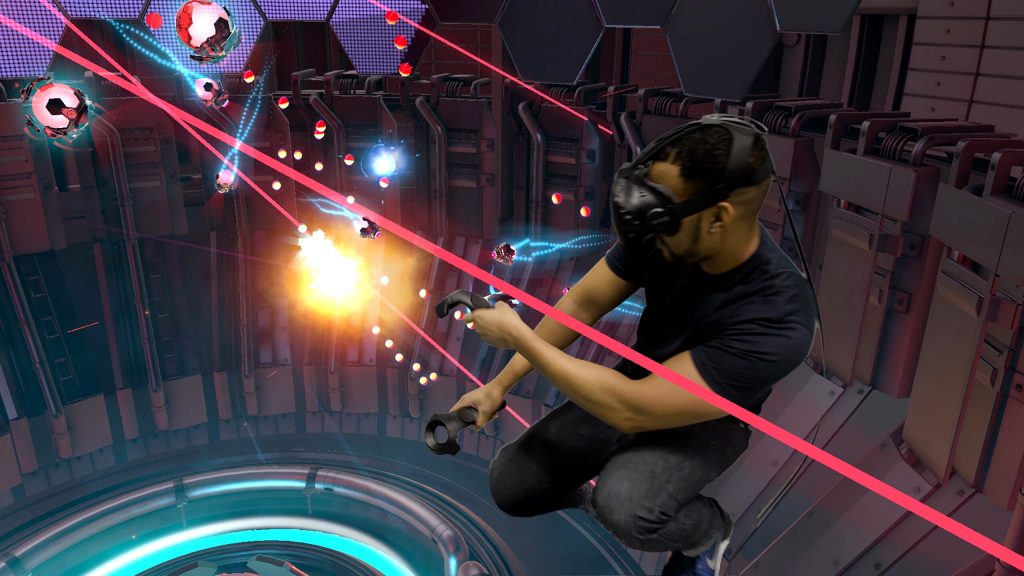 Virtual Reality Rentals
We have hundreds of games available and here are some of our favorites!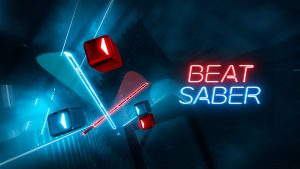 Beat Saber is a unique VR rhythm game where your goal is to slash the beats (represented by small cubes) as they are coming at you. 
Every beat indicates which saber you need to use and also the direction you need to match. All the music is composed to perfectly fit the handmade levels. 
Our goal is to make players almost dance while cutting the cubes and avoiding obstacles. Each cut is strongly supported by great sound and visual effects to emphasize the rhythm.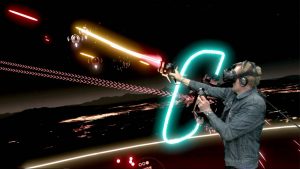 Remember those awesome 80s arcade cabinets? Imagine if those were immersive..
Space Pirate Trainer puts you inside the arcade game – fighting off relentless waves of droids with all the weapons and gadgets a Space Pirate would ever need.
You had better dodge some of those incoming lasers though, since just using your shields won't get you in the top rankings!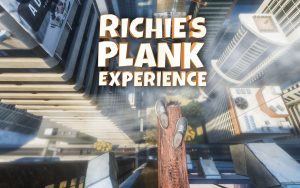 You're on a plank, 80 stories high. Knees shaky, palms sweaty. You have a choice. Do you walk or do you freeze? 


Richie's Plank Experience is the only VR experience that lets you clone any real-world plank into the virtual world for 2X the immersion.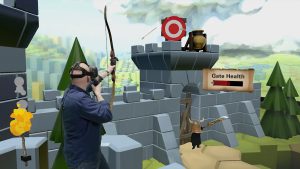 The Lab is a compilation of Valve's room-scale VR experiments set in a pocket universe within Aperture Science. Fix a robot, defend a castle, adopt a mechanical dog, and more. 
Longbow is the most popular game here. Use your archery skills to defend your noble castle gate from a rampaging but adorable and equally noble horde of attackers.
Plus so many other, including:
Various Escape Rooms
Merry Snowballs
Keep Talking and Nobody Explodes
Home run derby – simple to just step in and blast home runs
Collateral Damage – simple, you're a cat, knocking everything off the shelves.
The Blu – underwater experience.
Tilt Brush (3D painting) – Very cool, but time consuming, not great at a busy event.
Gorn – Gladiator style fighting but oddly funny.
Rec Room – Multi-player online game with a wide variety of activities.
Virtual Reality
$0.00
per additional hour
$2,148.00
per additional day
Product Information:
Starting at $895 for one unit for 4 hours does not include staffing or travel fees. Discounts may be available on multiple units.
Item Dimensions:
10'd x 10'w x 8'h
Space Needed:
10'd x 10'w x 8'h